ENding the cycle of Poverty with

the power of

education

.
For 147 years, our missionaries have worked tirelessly to bring education to some of the most desolate corners of the Earth. Divine Word Missionaries are responsible for over 300 schools, 22 colleges and 4 universities that educate young people across the globe. However, there is still work to be done. The reality is, among the 253 million children worldwide, 1 in 5 does not attend school. This #GivingTuesday, we are in need of your help to combat this unsettling reality, so that every person may uncover their God-given potential through education—regardless of their socioeconomic status.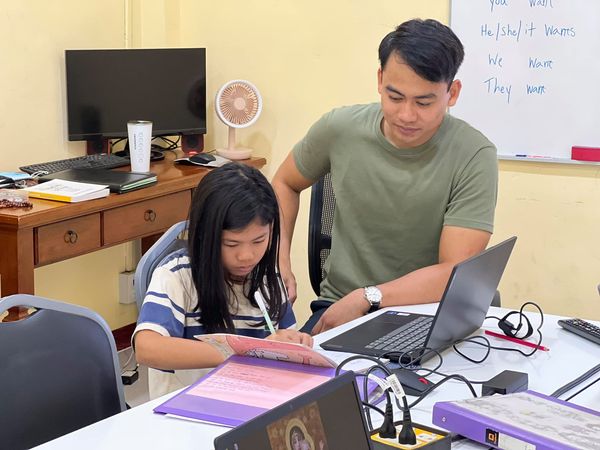 Overcoming limitations to create
Opportunity

.

Father Truong Le SVD and his students recently celebrated the completion of the "smart classroom" at Immaculate Conception Church in the village of Sangkhompathana in rural Thailand. Fr. Le says the classroom with its full complement of laptop computers will bring a quality education without cost to the students of the village.

Fr. Le started out teaching English to students in an outdoor pavilion amid rice paddies because the church had no classroom. To create a better space for teaching, he converted a storage room at the back of the church into a classroom and equipped it with laptop computers, tables and chairs and an air conditioning unit.

Although his students had never touched a computer before, Fr. Le reported that they quickly learned how to create PowerPoint presentations on topics in English. Throughout the world, Divine Word Missionaries overcome limitations to create educational opportunities for those they serve.
FOrming young Hearts in

Congo

.
In the 71 years Divine Word Missionaries have served in the Democratic Republic of Congo they have focused on pastoral services for youth by establishing schools in all their parishes and missions.
In the schools operated by our missionaries in Congo, students take pride in their education and are immersed in enriching religious formation in their coursework.
Divine Word Missionaries play integral roles in each of these schools—from founders to administrators to teachers and chaplains.
We greatly rely on the generosity of our donors to continue to provide the people of Congo with a quality education rooted in faith.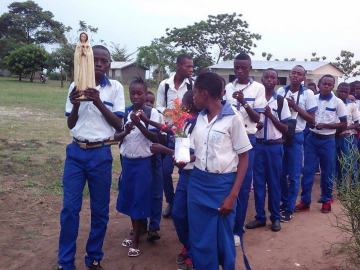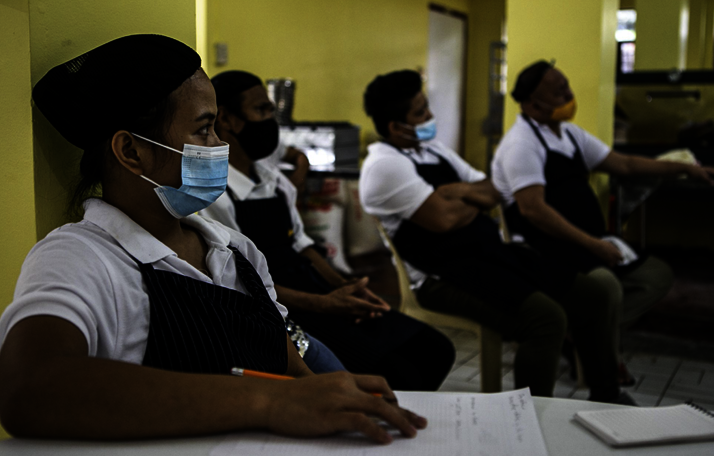 breaking the Cycle of Poverty

With bread.
Arnold Janssen Kalinga Center is a support facility run by Divine Word Missionaries to benefit the homeless of the Philippines' capital city, Manila.
The center offers alternative learning systems and programs for skills development to help residents become independent.
One of these programs is a five-day course in baking skills that teaches students to how to bake bread, create their own recipes, formulate marketing plans and even analyze business transactions.
The goal of the program is to teach individuals new skills and, upon completion of the course, to help them find an employer or start a business.
The Kalinga Center program is one of many examples showing how Divine Word Missionaries are combatting poverty and homelessness through the power of education.
MAKE Your
Impact TODAY
Every dollar you give helps our missionaries further their education ministry.
We're on a mission to fight poverty with education. Divine Word Missionaries are serving across the world, fueled by your prayers and emboldened by your generosity. Our goal is that our education ministries empower others to reach their full God-given potential.
Whether you can sign up for a monthly gift, or prefer to make a one-time donation...every dollar makes a major difference right now!
Stories

from

Our missions.
We have documented incredible stories that demonstrate how Divine Word Missionaries are working tirelessly each day to end poverty with education— we encourage you to read these stories and then take action by sharing them with your friends and family and inviting others to join us by donating to our education ministry!