SUPPORT REFUGEE YOUTH PROGRAMS In UGANDA
Team up with Divine Word Missionaries this Giving Tuesday, the Tuesday after Thanksgiving, to support South Sudanese refugee youth now living in Uganda. Help us reach our goal of $22,000! Each donation will be matched dollar for dollar, doubling your impact. Learn more below and give now 👇🏼


Divine Word Missionaries. In Action.
About our work in
Uganda

.

Around the world, Divine Word Missionaries are there to help protect refugees and people displaced by violence, conflict and persecution. As refugees begin to rebuild their lives, our missionaries help them learn new languages, build friendships and create long-term support systems. One of the most recent countries where Divine Word Missionaries have been working toward this goal is Uganda.

Since 2016, Uganda has served as a safe haven for South Sudanese refugees fleeing the violence of their country's civil war. Among Uganda's 11 refugee settlements, the largest is the Bidibidi settlement, stretching across nearly 100 square miles. This area has become home to 250,000 weary refugees. Here, Divine Word Missionaries serve and dedicate their lives to ministering and providing support to this vulnerable population.

Divine Word Missionaries arrived in Uganda in 2017 to bring help and guidance to many of the same people they previously ministered to in South Sudan. They took action immediately to provide a broad array of spiritual, emotional and physical support to these refugees. Earlier this year, our missionaries finished building a church in Bidibidi, with another planned soon.
WHAT IS THE
YOUTH Programs

FUND?

Our missionaries see a specific, urgent need to help the children and young people in Bidibidi. The youth programs that will benefit from our Giving Tuesday campaign are the product of our belief in the transformative force of education, empowerment and community in the lives of young people. The six projects that will benefit from the youth programs fund are opportunities for the youth in the Bidibidi settlement to build community, learn new skills, experience the Catholic faith, deepen their education and be creative. These opportunities include; life skills and healing programs, soccer tournaments, music festivals and much more. 100% of the money raised for the youth program fund will go toward these various academic and social youth programs for the refugee community.
HOW WILL
Your

SUPPORT MAKE

AN

IMPACT?
Through these youth projects, we hope to provide opportunities and experiences for growth, education and enjoyment for the refugee children in Uganda. And this Giving Tuesday, your donation will be matched dollar for dollar, doubling your impact.
OUR GOAL:

RAISE $22,000.
Here are some examples of what your donations can do: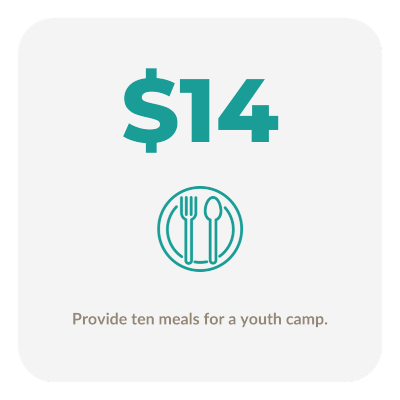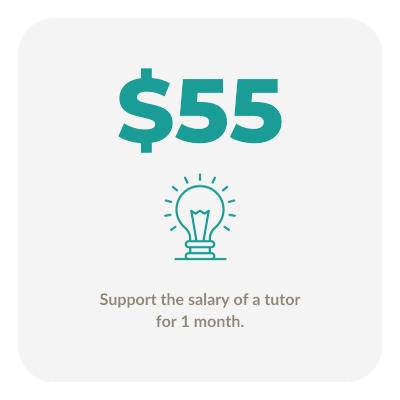 Six projects that your support will help make possible.
Life Skills Training and Trauma Counseling
These seminars will focus on teaching young people life skills and bringing about healing from the psychological traumas they've suffered. Guided by trauma experts, these young refugees will have the chance to grow personally while receiving support from a nurturing community.
Soccer Tournament
Soccer tournaments for young refugees in Bidibidi will provide a positive outlet within an environment rife with tribal divisions. Supervised soccer tournaments foster mental and physical health and camaraderie in communities of displaced people. To make these tournaments happen, our missionaries must provide supplies such as soccer balls, goal nets and first-aid kits.
Bidibidi Music Festival
Music is integral to South Sudan's culture; many ritual ceremonies are enlivened by singing and playing musical instruments. The Bidibidi Music Festival will emphasize the importance of music in South Sudanese culture by uniting refugees from different regions through their shared passion for music. To make this festival possible, funds for food, materials, transportation and awards are needed.
Children and Youth Days
Bidibidi Youth Days will bring together children and young people from different tribes and regions of South Sudan. These three days will give them opportunities to learn, grow and play. With more than 700 participants expected, our missionaries will need books, snacks and first-aid kits to ensure this program's success and safety.
Weekend Education
Schools are overcrowded in the settlement, and access to education is limited. Recognizing this, our missionaries will provide weekend classes to Bidibidi schoolchildren. Subjects will include math, English, art, computer skills and the Bari language. The primary goal is to bridge the educational gap that many refugee children face. Your financial support will compensate teachers and buy desks and necessary materials for these eager students.
Pilgrimage to Lodonga Minor Basilica
Divine Word Missionaries are excited to organize a walking pilgrimage for South Sudanese refugees to the Basilica of the Blessed Virgin Mary, a minor basilica in Lodonga, which is in the same government district as the Bidibidi settlement. This pilgrimage drew 800 refugee participants in 2019. For this endeavor, we aim to provide meals and transportation, making this sacred 24-mile journey possible for all who seek the comfort of faith amid the challenges of refugee life.
Will you join our mission of hope and transform the lives of South Sudanese refugee youth in Uganda? Donate now and provide hope to refugees in need.